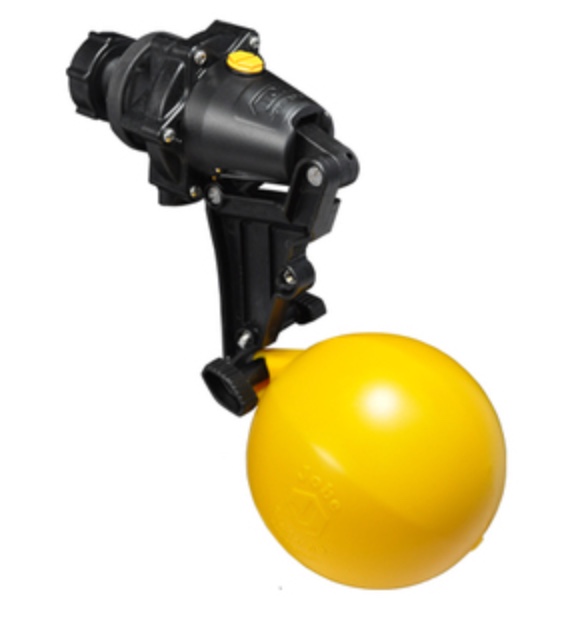 Float operated valves for use in automatic filling of water troughs, tanks, cisterns etc. The valve is configured for above or below water mounting. The float operates a small pilot valve which in turn operates the main diaphragm valve. Topaz trough valves are a good choice where their high flow, compact, robust, non corrosive construction and high level of adaptability are needed.
Applications
Maintaining Water Levels in:
• Animal Drinking Troughs
• Water Storage Tanks
• Water Cisterns
• Air Conditioning Systems
• High Pressure Cleaning Systems
• Irrigation Applications
Features:
• High flow
• Compact robust construction
• Mounts horizontally or vertically
• Made from corrosion resistant materials
• Shuts down slowly to minimise water hammer • 20 – 60mm (3⁄4" – 2 1⁄2")
• water level differential (increases as water inlet pressure increases)
• Pressure rating 0.3 – 7 Bar (5 – 100 PSI)
• Float position easily adjustable with no tools
• Valve has switch to lock it in off position
• Has port to connect Frostpro anti freeze device
Principles of Operation
The valve mounts at the top of the tank. It ts easily through a thin walled tank or screws into a threaded tank inlet.
• As the tank empties the weighted oat travels down the cord until it hits the bottom stop. The valve then opens immediately to give a full ow.
• The valve now runs constantly and the weighted oat rises until it hits the upper oat stop. This lifts the arm and the valve shuts down.
• Observe the pressure that your pump runs at while the tank is lling. Set the pressure switch to turn the pump off
at a pressure at least one bar above the running pressure.
Pressure Range
1 Bar – 10 Bar (15psi-150 psi)
High Flow

Start and stop levels  – can be easily adjusted to give water level differentials
from 50mm to 2.5 m
Keeps pump operation to a mininum.
DetachTM Valve Seal Access System for quick access to valve seal (Patented)
Ideal for all makes and models of tanks.
for more information please click here