Description
A Reliable Solution To All Your Pumping Needs
ROTOMAC brings together its proven technology, engineering expertise, and world class manufacturing to offer you its hygienic
range of progressive cavity pumps. Emphasizing on clean in place (CIP) & smooth surfaces makes it the perfect solution to all your
pumping requirements
The Hygienic Range
The 'F' type hygienic range of pumps have been designed specially for cosmetic, food and beverage industries. They are designed
keeping in mind the hygiene and variable viscosities of different fluids in these industries. Available in smooth Stainless Steel finish,
they also come with a wide throat hopper inlet incorporating an auger. The 'F' Type pumps conform to the guidlines in the 3-A US
Sanitary Standards.
Simplicity Is Convenience
This range of pumps consists of minimal number of easily maintained components which reduces the number of replaceable parts.
This guarantees a lower initial investment cost, reduced maintenance expenses & cost of replacement spares to a bare minimum.
The modular design also facilitates a quick & easy disassembly and assembly for routine maintenance. These pumps also offer an
option for an open fork universal joint design, which is self cleaning & free from any media retaining pockets as well as offers highest
resistance to corrosion and wear.
Features
• HIGH SUCTION LIFT
Can work against high vacuum. Ideal for lifting viscous fluids.
• NO RETAINING POCKETS
Prevents chemical and/or bacterial contamination.
• SELF PRIMING
Can handle high percentage of air/gas/vapor with liquid.
• CLEANING IN PLACE
Ensuring hygienic conditions by allowing positive cleaning.
Single or double CIP Port available as optional features.
• LOW FLUID VELOCITY
Provides a gentle handling of sensitive fluids to avoid any
damage to the media.
• NON CONTAMINATING ELEMENTS
All metallic parts in contact with the fluid are of smooth
Stainless Steel finish.
• UNIFORM FLOW
No pulsation, turbulence or aeration.
• NON CLOGGING
Handles suspensions or mixtures containing high percentage
of solids.
• REVERSIBLE
The rotation and direction of flow is reversible.
• VERSATILITY
Handles any fluid from clear water to highly viscous.
• SILENT RUNNING
The rotor rotates inside a resilient stator, thus generating
minimal noise.
Wide throat hygenic pumps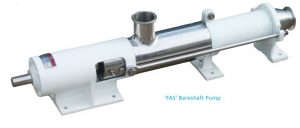 These pumps are designed for highly viscous media & greater
solid content. They have an open wide throat hopper type Inlet
and an auger which makes sure non-flowable media are pumped
seamlessly.
DRIVE END
* Pump lantern closecoupled with geared motor or mechanical variators.
* Bareshaft option also available.
SUCTION HOUSING
• Single & double CIP ports available as optional features
• Jacketed housings optional
• Smooth and polished end connections in SMS , IDF , RJT &
Triclamp options are available.
'FDC' Closecoupled Pump
'FAS' Bareshaft Pump W