Hervey Bay Croquet Club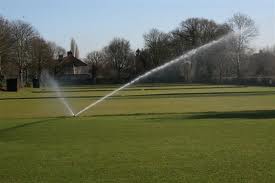 We Engaged Michael Baker and his Company to carry out an audit on the Irrigation System on our Croquet Lawns.
He found a design fault with the system and made recommendations what to do to rectify the problem.
They supplied and installed the new sprinklers, cables and upgraded the controller in a very professional manner.
We are so grateful that the job was completed promptly & efficiently.
Urangan Bowls Club Inc
The Urangan Bowls Club recently engaged Mr Michael Baker of Irrigation Direct to install an underground sprinkler system to irrigate the lawn area surrounding our bowling green. The job was quite complex as pipes had to be laid around the bowling green without interfering with it and also without disrupting play. The Management of Urangan Bowls Club were very impressed with the way Michael and his staff carried out the job, they were easy to work with & met our timetable in an efficient manner and we ended up with a very up to date waterwise sprinkler system.
We have no hesitation in recommending Michael and his team to any project for which they may tender.
Yours sincerely Darrell Smith Secretary
TA & EV Graham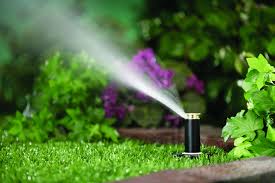 To whom it may concern
When we decided to fully irrigate our Garden & lawn we made contact with Michael Baker. He listened to what we proposed and then made suggestions and options that were just so helpful. In doing the installation his experience and that of his team became very obvious and we are delighted with the result.
We have no reservations in recommending his services.
Peter B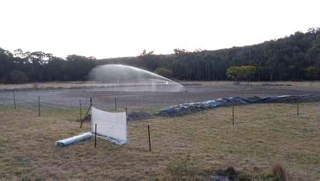 Hi Michael,
Thanks for organizing the stand and sprinkler so quickly. The stand arrived next day, and the sprinkler on Friday, so I had water out on the weekend.
I'm able to water 1/2 acre with an inexpensive "8HP" pump, through 100m of 50mm and 20m of 38mm layflat. In the pic below I'm using the 10mm nozzle which gives the best distribution without breaking the jet; it's pushing into the wind here. The jet length is 20-21m.