Solar Pumps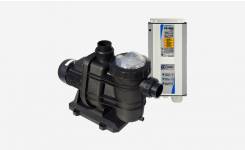 LORENTZ is a market leader in solar powered water pumping solutions.
LORENTZ technology uses the power of the sun to pump water, sustaining and enhancing the life of millions of people, their livestock and crops. This is encompassed in our company strapline – Sun. Water. Life.
Founded in Germany during 1993 LORENTZ has pioneered, innovated and excelled in the engineering and manufacturing of solar powered water pumping. We design, develop and manufacture the widest range of solar pumps of any company. Mechanical, electronic and software design is all in-house with a specialized team that have been working in solar pumping for 20 years. Our design activities are focused in our Global Headquarters and Technology Center just outside of Hamburg, Germany.
Manufacturing is done in our own factories. We have owned and operated two factories outside of Beijing, China since 1995. LORENTZ management team are split between Germany and China and we have a constant exchange of staff between the two key locations. Having our core production in Beijing allows us access to a very flexible supply chain and to well-educated and highly experienced staff. Our production team are very loyal and professional who keep up our high quality standards and our unique, intensive 100% functional test schedule on every product we make.
Our products are built for off-grid, rural and often hostile environments. This means we design and build products that are efficient, reliable and simple to service if anything should ever go wrong.
LORENTZ solar pumps serve three main application areas, Drinking Water for people and livestock, Irrigation of crops, from smallholdings to large commercial farms and for swimming pool circulation/filtration which we call Responsible Leisure.
We also design and manufacture solar tracking systems which improve the water yield from solar pump systems and maximize return on investment for grid tie systems. We call this application Solar Capture.
Today LORENTZ is active in over 130 countries through a dedicated network of professional partners. We only sell our products through our partners and focus lots of our efforts on making sure they are informed, trained, supported and able to meet the specific needs of customers locally.
With LORENTZ you can trust in the company that millions of people, their animals and crops rely on every day.