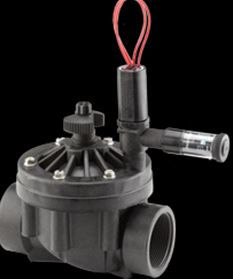 Fixed or adjustable pressure regulation for any zone
Only Accu-Sync™ brings fixed or adjustable pressure regulation to any Hunter valve. The adjustable model enables the zone pressure to be customized from 20 to 100 PSI, while fixed models allow for easy installation at a set pressure. No matter which you choose, all zones stay in tune with Accu-Sync.
Features & Benefits
Conservation
Consistent pressure regulation means no more wasted water.
Ease
Regulate pressure at the valve instead of individual sprinkler heads.
Speed
No tools are needed for the fastest installation in the industry.
Why regulate pressure?
Regulating pressure saves water and extends the life of the irrigation system. Water savings is achieved by operating each zone at the best pressure for that equipment and application type.
Use the chart below to select the best Accu-Sync™ model for each application of Hunter irrigation equipment.
Accu-Sync ensures that every zone in every system stays in check for maximum water savings and longevity.
For Adjustable Pressure Installation
1.  Remove solenoid from valve
2.  Install solenoid in Accu-Sync
3.  Install Accu-Sync in valve
4.  Adjust to desired pressure
For Fixed Pressure Installation
Follow steps 1 through 3 above.
Operating Specifications
AS-ADJ: Regulation from 20 to 100 PSI (1.4 to 6.9 bar)
Fixed: 20 PSI (1.4 bar), 30 PSI (2.1 bar),
40 PSI (2.8 bar), 50 PSI (3.5 bar), and
70 PSI (4.8 bar)
Static pressure: 150 PSI
Required static dynamic differential: 15 PSI Works with AC and DC latching solenoids Works with any Hunter valve