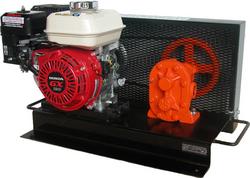 Available in 6 sizes i.e.
13, 20, 25, 35, 50 and
80mm (inlet / outlets)
Oversized engines and
electric motors used to
handle the mollases
when cold
Over 50 units of all
sizes with electric and
petrol drive are kept in
stock for quick despatch
Available with single
and three phase electric
motors
Available with electric,
petrol or diesel drives.
Electric or recoil start
engines
Geared down for slow
running at a nominal 200
to 400rpm for the higher
viscosity fluid
Heavy duty cast iron gear
pumps
Blind plain bearings
which are self lubricating
with the pumped liquid
These positive displacement low inertia pumps are excellent at pumping fluids at low to medium pressures.
The Finsbury molasses pumps are ideal for cattle supplement feeding or general molasses transfer.
Flows up to 200 L/min and heads up to 30m